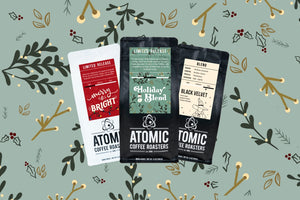 'tis the season
HOLIDAY GIFT GUIDE
Give the gift of coffee this holiday season! We put together a great list of options for the coffee lover in your life.
SHOP NOW

ROASTED FRESH
Our coffees are roasted within 24-hours of your order.

SHIPPED QUICK
Most orders will ship the day after your order is placed.

FAMILY-OWNED
Family-owned and operated for over two decades.



★★★★★

SO FRESH.

I placed an order yesterday and it arrived today! Not to mention that it was roasted yesterday too!!

I can honestly say that I have NEVER had fresher beans than this and I cannot wait to enjoy them. Completely impressed.

Christopher F.

Rocketeer
★★★★★

MY FAVORITE!

I received this coffee for the first time through a coffee subscription, but after trying this coffee my world changed lol....I just kept putting this one back on my list. As much as I love trying new coffees, this is my absolute favorite, you can't go wrong with it. I particularly don't enjoy the super fruity coffees, so this is exactly my kind of coffee. I love the chocolaty/ nutty taste, it smells absolutely wonderful. LOVE IT!

Carolina M

House Blend
★★★★★

OUTSTANDING COFFEE.

I've been on a coffee search for the last 6 months. Over that time I have tried about 20 different Dark Roast coffees from across the U.S. From New York to San Francisco and Wisconsin to Florida. Diesel Dark Roast stands above all of them. I never realized how different regions like their coffees, maybe I'm an East coast person at heart. Any way I love this coffee.

Clark F.

Diesel
★★★★★

GREAT COFFEE.

This is freaky good coffee. It is always freshly roasted when it arrives at my house. Atomic has an easy to use and change subscription service. Why would you buy coffee from anywhere else.

Chris S.

Black Velvet
★★★★★

THE BEST COFFEE I'VE EVER HAD

This coffee is so rich and smooth! No bitterness, just a really beautiful cup of coffee. I go to bed at night excited for my morning cup.

Jennifer L

Black Velvet